On the third of February 2020, the Association for the Visually Impaired Hungarians in Transylvania launched a community fundraising campaign. Our goal is to purchase a multifunctional building suitable for an elementary rehabilitation center. The target amount for Community fundraising is 1 million Euro.
We launched the long-planned campaign with a press conference. The event, which aroused great press interest, attended Kinga Pálfi, the deputy mayor of Székelyudvarhely, who provided support to the city administration for the implementation of EMLE's priority projects: the adult rehabilitation center and the education center. "Székelyudvarhely must be an inclusive city, we must pay attention to our companions with special needs – we also contribute to the development of our communities with these initiatives", said the deputy mayor. We sincerely thank deputy mayor Kinga Pálfi and the Mayor's Office of Székelyudvarhely for their presence and sincere support.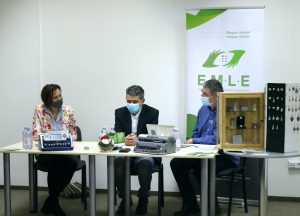 It was stated at the press conference that it is extremely important to support the rehabilitation of adults, that this type of service can help mentally and physically people who have lost their sight in adulthood.
The donations are managed by our website erdelyivakiskola.org, it is possible to support our project by name, anonymity or as a legal entity. We believe in eternal Providence, we believe in the priceless power of our community, and we believe in the effectiveness of a job well done. We sincerely believe in the feasibility of our goals, we believe that we can move the masses with the right information for this whole Transylvanian cause to support the noble goals.
Thank you for your support!