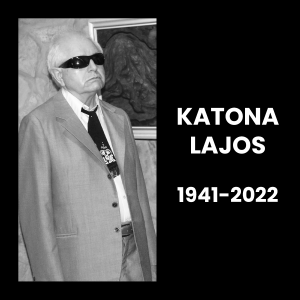 "Preach the word: be instant in season, out of season: reprove, entreat, rebuke in all patience and doctrine. For there shall be a time, when they will not endure sound doctrine; but, according to their own desires, they will heap to themselves teachers, having itching ears: and will indeed turn away their hearing from the truth, but will be turned unto fables. But be thou vigilant, labour in all things, do the work of an evangelist, fulfill thy ministry. Be sober.
For I am even now ready to be sacrificed: and the time of my dissolution is at hand.
I have fought a good fight, I have finished my course, I have kept the faith.
As to the rest, there is laid up for me a crown of justice, which the Lord the just judge will render to me in that day…" Bible, the socond letter of Paul to Timothy
IN THE 81ST YEAR OF HIS LIFE, MR. LAJOS KATONA,  AFTER A LONG AND DIGNIFIED SUFFERING, HAS GONE TO REST.
At the age of eight, he lost his right hand in an accident and was completely blind by the age of 18.
He completed his primary education in his home village. He spent a bitter 2 years at an industrial school in Bucharest. With uncertainty and agony, he managed to get permission to enrol at the Institute for the Blind in Cluj, where he completed secondary school. He then successfully entered the Babes-Bolyai University of Sciences, where he obtained a teaching degree.
He taught at the Institute for the Blind in Cluj for 35 years.
He wrote and published several books at his own expense, including a memoir of his home village. His book about the School for the Blind in Cluj-Napoca is a work of historical promise, preceded by more than 4 years of research. He has written and published a book about his sculptures and the process of making some of his works. Many of his studies and opinion pieces have been published in specialist journals and the printed press.
He lived a life of disabbled and blindness, of struggle and fighting, but obstacles never stood in the way of his creativity, his thirst for knowledge, his creative energy. He spent 30 years working on his drawing apparatus for blind children, created 7 different versions and then had it copyrighted in Hungary.
He sculpted more than 30 sculptures of high artistic value. He taught and educated with a straight backbone, without compromise, with honesty and with his all heart. His holistic education was exemplary, and his curiosity for science, culture and daily reality remained until the last moment of his life.
She lived 48 years of marriage.
His funeral will be held on 05.11.2022 in Sarmaság at 2 pm.
MAY HIS MEMORY BE BLESSED!