"I felt great! – ongoing success story 
We rejoiced when we heard it. And we knew he was very clever. We knew, that he has a tremendous lexical knowledge. Also, he has already won several Bible knowledge quizzes, also nationwide. We knew that he has a rare memory, that he is used to competitions, that his diligence is honourable, that he is committed to being a sensitive, cheerful, sophisticated young man in spite of all this.
But we didn't think it was going to be the very first. This is a remarkable level of competition. The Institute of Protestant Theology in Kolozsvár (Klausenburg) does not usually advertise easy recordings. It can't do it, because it  really does matter who  the future theologians, priests, pastors, religion teachers, spiritual leaders will be. It does matter to who we turn to for good advice, good words, spiritual and physical help, support. I asked him what the admission exam was like? "I had a great time," he said, "it was like a field-trip."
And for long minutes, he recounted what situational exercises, improvisational competitions, and lexical knowledge tests they went through. Tamás Kovács was the first to enter the Kolozsvári Reformed Theology with a grade of 9.94. We are witnessing the laudable stage of a model life: concentrated diligence, renunciation, making family sacrifices, love, trust, and attention to each other bear fruit in all cases.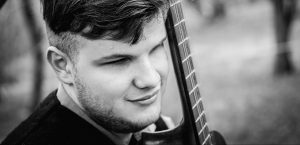 Dear Tamás Kovács, member of the board of the Association for the Visually Impaired Hungarians in Transylvania, our colleague and friend: congratulations for this result! God bless you, we wish you good results in the future. Because – speaking of Esterházy – we do not go under after a certain level reached.