"Sometimes we have to change ourselves, if we want the world to change."

Robin Youngson 
Between September 27-28, 2019 we participated to the XIII-th Conference "Together for the Disabled" at the Teacher's House in Csikszereda. We presented the learning opportunities of Hungarian children with visual impairment in present-day Romania, the cynical problem-solving practice of the Child Protection Services and other social state institutions, the inertia and unpreparedness of normal schools to accommodate a visually impaired child, the ill-considered and perspective-free legislation of the Romanian state for visually impaired children. We reported on the circumstances of the only Hungarian-language school specializing in the sightless so far (1900, Kolozsvár), and then the confiscation by the Romanian regime of a large amount of special assets from unprecedented civilian cooperation and exemplary farming, and the desertion of a world-famous educational institution. And we talked about the plans of the Association of the Visually Impaired Hungarians from Romania on the establishment of a boarding school in the Hungarian mother tongue for Hungarian visually impaired children in Romania. We are grateful to the Caritas in Gyulafehérvár and to the Association of Hungarian Educators in Romania.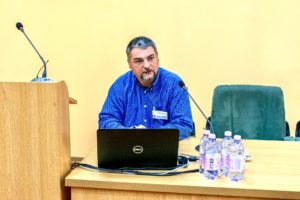 14 well-known speakers and 117 people attended the event, which was dedicated to assisting organizations, professionals, parents and to people with disabilities.
The two-day conference was supported by the Hargita County Council and the Mayor's Office of Csikszereda.